August 5, 2022, 7:00pm–8:30pm
Mireya and Alea, both alumni of Uncharted, Greenwich House Music School's ongoing performance series devoted to emerging New York City-based artists, take the Picnic Performances stage.
Mireya is a New York-based, Latin Grammy-winning vocalist, violinist, composer, arranger and founder of Flor de Toloache – NYC's first and only all-women mariachi. Born in California to proud Dominican and Mexican parents, Mireya was raised in San Juan, Puerto Rico until moving to NYC in her teens to pursue her musical career. Her aura embodies a wide variety of musical influences: from mariachi, salsa to merengue, hip-hop, she weaves a unique and refreshing musical blend. Classically trained by Suzuki method, and having had orchestral experience at University, her passion is strongest for folklore as well as other alternative genres. Mireya believes in sharing her skills, encouraging and inspiring the next generation to successfully pursue their dreams through educational workshops and school performances all around the country.
With a welcoming sound that embraces cumbia, vallenato, rancheras, jazz and American pop, the singer-songwriter Maria Alejandra Jiménez aka Alea moves her audiences with messages of the spirit, calls for social change and free-flowing love. Originally from La Guajira, Colombia, Alea's performance encompasses an entire generation of ethno-futuristic and folkloric music accentuated by buttery vocals, deep-rooted grooves and uplifting guitar. Alea's in-person performances are powerful encounters of the spirit, passionate travelogues that link downtown New York to a tropical Colombian cantina. They are celebrations of Latin America and new definitions of what "Latin Alternative" can be. Her most recent album, 2021's Alborotá, was shortlisted as among the Best Latin Music of the year by both Rolling Stone and NPR.
Since 2014, Greenwich House Music School's Uncharted series has emerged as one of New York's most exciting and unpredictable live concert series, drawing attention from tastemakers and curators from across the city. Every Uncharted performance features New York City-based artists premiering new projects or meeting new collaborators on stage.
Picnic Performances presented by Bank of America showcases live and in-person music, dance, and theater events produced in partnership with a diverse and storied lineup of New York City's performing arts institutions. All performances are free to the public and designed to be enjoyed casually – no tickets required—with ample seating available and free picnic blankets to borrow.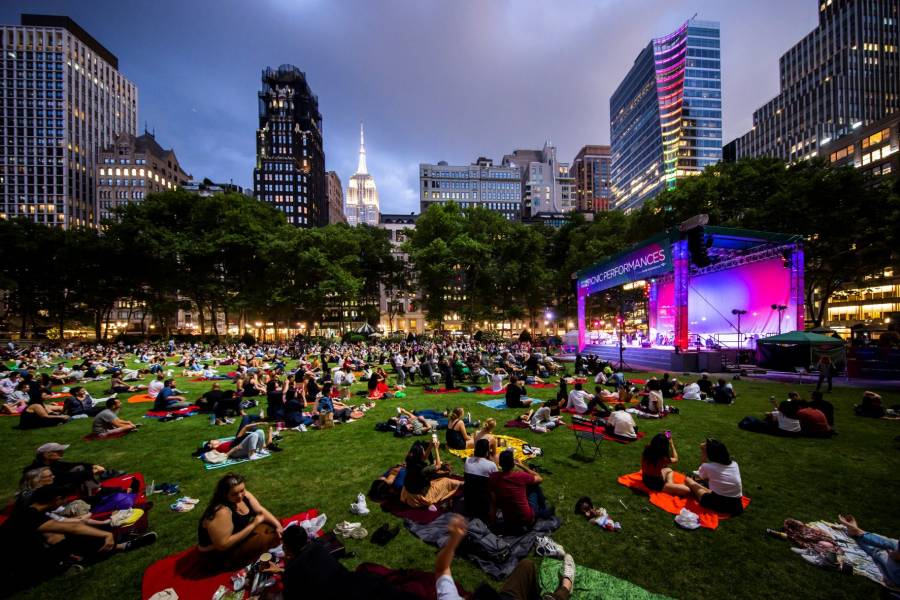 Borrow a picnic blanket or chair – or bring your own. Bryant Park blankets and chairs are available on a first-come, first-served basis.
Attendees may bring their own food or purchase from on-site food and beverage vendors near the Lawn. At most performances, attendees can purchase food from a rotating line-up of local NYC vendors curated by Hester Street Fair. At all performances, Stout NYC offers cheese and charcuterie boards as well as a selection of beer, wine, frosé, and non-alcoholic beverages for purchase.
Performances are cancelled when it is unsafe to be outdoors. In some cases, the Lawn may be too wet to open but the performance may continue. Follow @bryantparknyc for day-of event updates.
COVID-19 vaccinations and masks are not currently required but Bryant Park will continue to monitor and follow updated New York City and New York State COVID-19 guidelines throughout the summer as necessary.
Can't make it to the park? Watch the full livestream on the Picnic Performances page or on Facebook, YouTube, and Instagram @bryantparknyc.