As the only large-scale public park in Midtown Manhattan, Bryant Park is a much sought-after location for concerts, product launches, and commercial activations. Bryant Park Corporation (BPC), a non-profit organization, carefully considers proposals for events in the park in light of their potential to support its commitment to free cultural programming for the public.
To inquire about availability and pricing, please contact events@34bp.org.
To book a private event at the Bryant Park Grill, please contact Ark Restaurants at 212- 840-6500.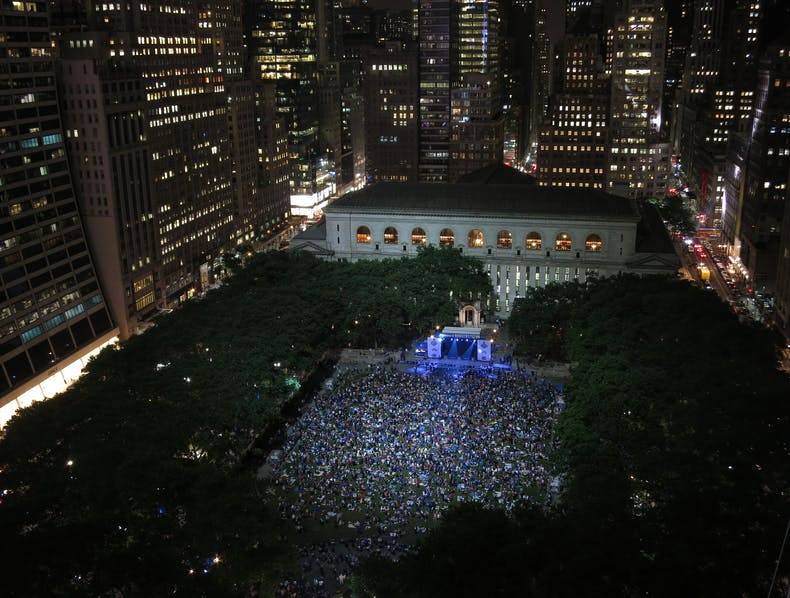 Please review the following typical event spaces and determine which space works best for your event. Please keep in mind that no event can completely close the park to the public.
The Upper Terrace
The Upper Terrace overlooks the Lawn and offers 136' x 56' of space with a grand staircase leading down to the lawn level.
The Lawn
The jewel of Bryant Park, the 280' x 180' Lawn is well-known as a lush, green oasis hosting thousands of visitors each day. Structures, equipment, and materials are not allowed on the Lawn, however, it may be used as a viewing area for your event.
The Fountain Terrace
Featuring the park's unmistakable pink granite fountain, the 67' x 87' terrace by the entrance on 6th Avenue at 41st Street has been the host of many events ranging from product launches to art installations.
40th Street and 42nd Street Plazas
The park's two 59' x 36' bluestone plazas serve as the main entrances to their respective streets.
42nd Street Entrance of New York Public Library
Events taking place inside the New York Public Library are able to extend their set-up outdoors onto the steps and side terrace at the Library's 42nd Street entrance.
Fifth Avenue Terrace
All events on the Fifth Avenue Terrace are subject to approval by the New York Public LIbrary. The Terrace offers approximately 15,000 square feet of space below the Library's main staircase.
Bank of America Winter Village at Bryant Park
Between October and February, Bryant Park is transformed into a winter wonderland. With over 170 holiday shops and a 17,000 square foot skating rink, the winter setting is the perfect backdrop for your event.
To hold an event in Bryant Park, please contact the events department at 917-438-5119 or events@34bp.org.
For large-scale events, it is recommended to call or email three to six months prior to the preferred event date(s). Proposals for smaller events may be considered with one to two months of lead time.
Proposals will be reviewed as soon as possible, usually within one week.
Estimated fees cannot be given until a complete proposal has been submitted and reviewed by the Events Department.