get noticed in nyc's busiest public space
Bryant Park's central location, its extensive, world-class programs and events, and its meticulously maintained grounds offer a picturesque setting and a respite from the bustling Midtown landscape, drawing millions of locals and tourists throughout the year.
To preserve its commitment to free cultural programming for the public, Bryant Park Corporation (BPC), a non-profit organization, carefully considers proposals for external events in the park at select locations within the Park. To inquire about availability and pricing, please review the drop-down menu below of possible event locations and contact events@34bp.org or submit an inquiry below.
Bryant Park is a public park and as such is not availabe for private events except within Bryant Park Grill or Winter Village. To inquire about venue spaces available during Winter Village, please email events@34bp.org or visit www.wintervillage.org. To book a private event at the Bryant Park Grill, please contact Ark restaurants at 212-840-6500.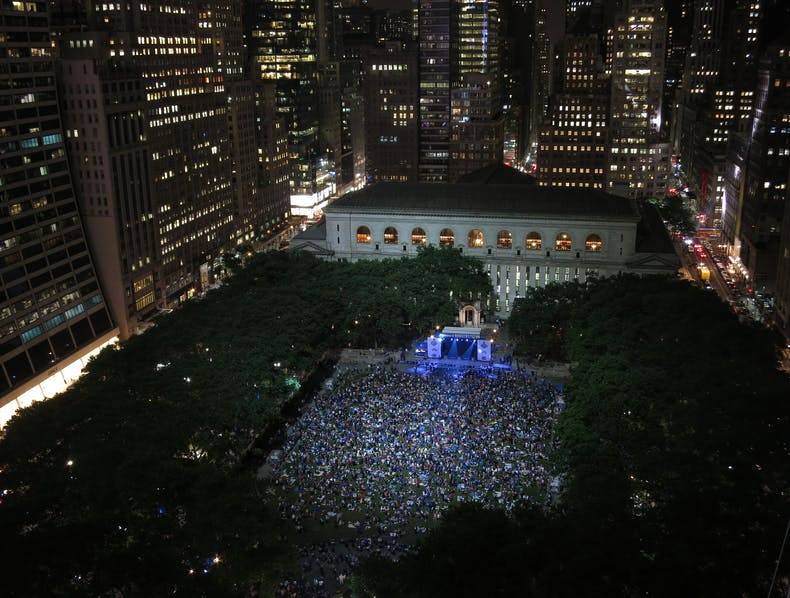 Bryant Park Corporation
event locations
Bryant Park offers a variety of locations for brands to host one-of-a-kind events and activations. As one of the busiest parks in the world with proximity to thousands of attractions, theaters, offices, and restaurants, Bryant Park is the perfect location for any sampling, product launch, experiential build out, or screening.
Throughout the summer, Bryant Park hosts a variety of programming and events free to the public. Areas such as the Fountain Terrace or the Upper Terrace provide an ideal environment for experiential marketing activations and press-worthy events.
During the Winter months, Bryant Park is home to NYC's winter wonderland: Bank of America Winter Village. The annual holiday attraction sees approximately 3 million locals and tourists, and boasts several spaces which can be transformed to suit memorable events and activations, including two private event spaces.
For more information on event locations, please see the dropdown menu of locations below.
If your organization is interested in sponsoring an existing event, please visit our Brand Partnerships page for more information or email sponsorships@34bp.org.
Activation Locations
March – September
Featuring the park's unmistakable pink granite fountain, the 67' x 87' terrace by the entrance on 6th Avenue and 41st Street has been the host of many events ranging from product launches to art installations.
The Upper Terrace overlooks the Lawn and offers 136' x 56' of space with an impressive staircase leading down to the lawn level.
The jewel of Bryant Park, the 280' x 180' Lawn is well-known as a lush, green oasis hosting thousands of visitors each day. Structures, equipment, and materials are not allowed on the Lawn, however, it may be used as a viewing area for your event.
The park's two 59' x 36' bluestone plazas serve as the main entrances to their respective streets.
Space immediately adjacent to Bryant Park's popular carousel that offers approximately 20' x 30' of space.
Events taking place inside the New York Public Library are able to extend their set-up outdoors onto the steps and side terrace at the Library's 42nd Street entrance.
All events on the Fifth Avenue Terrace are subject to approval by the New York Public Library. The Terrace offers approximately 15,000 square feet of space below the Library's main staircase.
Activation Locations
November – February
A prominent position facing the skating rink and adjacent to the rink entrance that offers approximately 45' x 45' of space.
A 20' x 30' space immediately adjacent to Bryant Park's popular carousel in the midst of the Holiday Shops and in close proximity of the skating rink exit.
Overlook sits above the enchanting Winter Village landscape and offers approximately 2,300 square feet of event space, accommodating approximately 225 guests for a standing reception. This space is private and would be best suited for a cocktail party, holiday gathering, VIP or influencer event. Please visit www.wintervillage.org to learn more about our private event offerings.
A cozy spot next to The Rink entrance, Polar Lounge offers approximately 528 square feet and can accommodate up to 50 guests for small gatherings.  Please visit www.wintervillage.org to learn more about our private event offerings.