Yoga
Bryant Park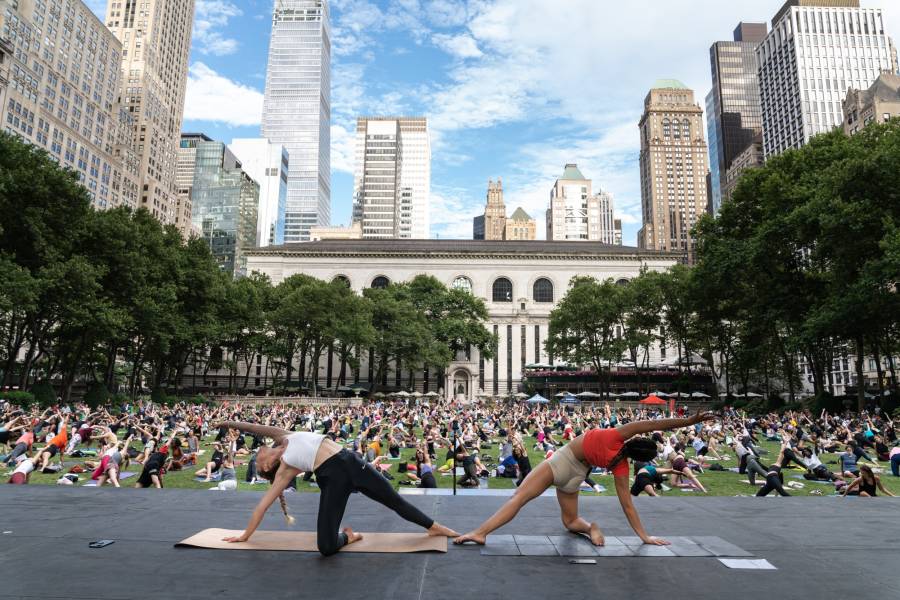 Everyone's favorite yoga program returns for summer 2023! From May 31 through September 27, join us for classes Tuesday mornings on the Upper Terrace, and Wednesday evenings on the lawn.
Bryant Park Yoga presented by Essential Costa Rica is free for the public. Bring your mat, some water, and enjoy one hour of yoga with New York City's top instructors. Be sure to register at the links below!

June 6: Jeff Posner
June 13: Neeti Narula
June 20: Kristen Kemp
June 27: Amanda Valdes
July 4: NO CLASS
July 11: Dara Hart
July 18: Zack Thompson
July 25: Kosha Rakholia
August 1: Mona Anand
August 8: Alan Finger
August 15: Kim Copeland
August 22: Stephanie Acosta
August 29: Ruthie Flynn
September 5: Sarah Flaherty
September 12: Jacqui Bongiovani
September 19: Yuval Samburski
September 26: Erica Chen
May 31: Bethany Lyons
June 7: Madeline Hickman (CANCELLED)
June 14: Kiley Holiday & Lydia Dallas (CANCELLED)
June 21: Angelica Wilson
June 28: Chelsey Forbes
July 5: Dre Drummond
July 12: Colleen Saidman Yee & Rodney Yee
July 19: Heidi Kristoffer
July 26: Sandy Sperou, Mia Fasanella, & Seamus Tyson
August 2: Pilin Anice
August 9: Sarah Finger
August 16: Rima Rabbath & Alicia Weihl
August 23: Paige Elenson
August 30: Bee Creel
September 6*: Shannan Reber
September 13*: Jo Murdock
September 20*: Lulu Soni
September 27*: Kristin McGee
*September classes begin at 5:30pm
Registration is required. By pre-registering, you complete the waiver in advance (view the waiver here) and will receive weather-related updates.
Register for Tuesday classes here, and Wednesday classes here.
Our classes are free and open to the public! All levels will enjoy participating in our yoga classes, thanks to the skill of our experienced teachers.
Please present your QR code from the confirmation email you received during registration to the Bryant Park check-in staff.
Check-in locations can be found at either side of the stage (marked with pink barricades) and at the pink tent at the eastern side of the lawn (furthest from the stage).
We recommend you arrive to class at least 15 minutes early so you have time to check-in and roll out your mat before instruction begins.
Your own yoga mat! The park does not provide mats.
Water to keep hydrated during class.
A towel, if needed.
We are thrilled to continue offering livestream sessions Wednesday evenings at 6pm on our Instagram page @bryantparknyc. Follow along live, or return later to practice with us from one of our past classes, or seasons!
Classes are cancelled when it is deemed unsafe or uncomfortable for participants. Classes may be moved to a new location or cancelled if holding class could harm the lawn. Follow @bryantparknyc for day-of updates. Pre-registered participants will also receive weather-related updates via email.