From early April to late July, visit the Bryant Park apiary and watch the comings and goings of the park's honey bees. These powerful pollinators, maintained in partnership with the New York City Beekeepers Association, help make our plantings healthier and more beautiful.
CLasses
New final date added!
Friday, July 14 1PM-2PM
On select Fridays at 11:30am, visit the Reading Room for beekeeping classes presented by our partners at New York City Beekeepers Association. You'll learn about honey bee colonies and the vital role they play in the natural environment. We welcome gardeners, prospective beekeepers, and anyone interested in learning more about bees and beekeeping!
2023 dates
April 28, May 12, June 16
11:30am-12:30pm
Angelito Jusay
About Our Bees
Since 2017, Bryant Park has been home to two beehives in spring and summer. Our hives are home to Italian honey bees, a subspecies known for their gentleness, productivity, and resistance to disease. Each hive might have between 20,000 and 60,000 bees at a time.
Where do the hives go in fall and winter?
In August, when plant resources begin to dry up, the hives are moved to a farm in Connecticut, where they can continue gathering food until winter. Once the weather gets too cold for them to keep working, they gather together inside the hive and vibrate to keep warm until spring.
Hyper-local honey
Honey is made from flower nectar, which honey bees transform into honey by adding special enzymes, bacteria, and yeasts while evaporating excess water. The resulting product is so resistant to microbes that, when sealed, it has an indefinite shelf life. Edible honey has even been found in Egyptian tombs.
Honey bees are unique because they produce far more honey than they can use. We can safely take honey from our bees while leaving them with more than enough to live on. Each hive can produce over 50 lbs of excess honey a year, which we bottle and sell through the Bryant Park Shop!
Don't be scared!
Our honey bees are incredibly docile, and they have no interest in humans or their activities. While they may sting in their own defense if seriously provoked, park visitors have nothing to fear from them. In fact, many of the stings people attribute to bees were actually caused by honey bees' omnivorous cousins, wasps!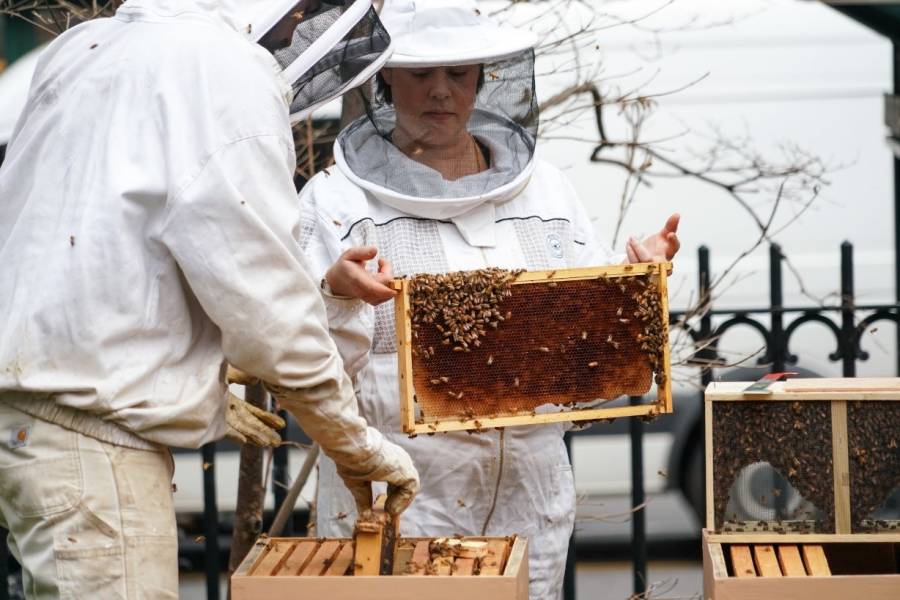 BeeCam
Enjoy the comings and goings of our industrious bees as they gather pollen through the summer. Please note: our beecam is not year-round, but can be viewed a few months every summer!
Jane Kratochvil