July 28, 2022, 6:00pm–8:00pm
This performance is part of Ailey Moves NYC!, Ailey's 10-day series of outdoor activities for all ages across the five boroughs. This celebration includes performances by Alvin Ailey American Dance Theater and Ailey II, dance in classes and workshops led by Ailey's Arts In Education and Ailey Extension teachers and musicians, meet current students from the acclaimed Ailey School, and watch the stirring documentary AILEY out in the open air. Ailey is thrilled to bring dance to our fellow New Yorkers of all ages.
Ailey Extension (2005) fulfills Mr. Ailey's life-long commitment to bringing dance to everyone by offering "real classes for real people." With nearly 40 weekly classes and special workshops each month, Ailey Extension invites students all over the world to explore different dance styles seven days a week. Ailey Extension currently offers a variety of in-person, virtual, and hybrid class options in techniques like hip-hop, ballet, Horton, West African, Zumba®, samba, contemporary, Pilates, Broadway Jazz, and more. Visit www.alvinailey.org/extension for the latest schedule.
Ailey II (1974) is the second company of emerging young dancers, universally renowned for merging the spirit and energy of the country's best young dance talent with the passion and creative vision of today's most outstanding emerging choreographers. Under the vision of Artistic Director Francesca Harper, Ailey II will continue to expand the bridge from the classroom to the stage that Alvin Ailey created to constantly propel each new generation of artists forward.
Program Details:
Psūkhe (Choreography by Andrea Miller)
Saa Magni (Choreography by Yannick Lebrun)
Reflections in D (Choreography by Alvin Ailey)
Freedom Series (Choreography by Francesca Harper)
6PM: Ailey Extension NY Style Mambo Class
7PM: Ailey II Performance
Picnic Performances presented by Bank of America showcases live and in-person music, dance, and theater events produced in partnership with a diverse and storied lineup of New York City's performing arts institutions. All performances are free to the public and designed to be enjoyed casually – no tickets required—with ample seating available and free picnic blankets to borrow.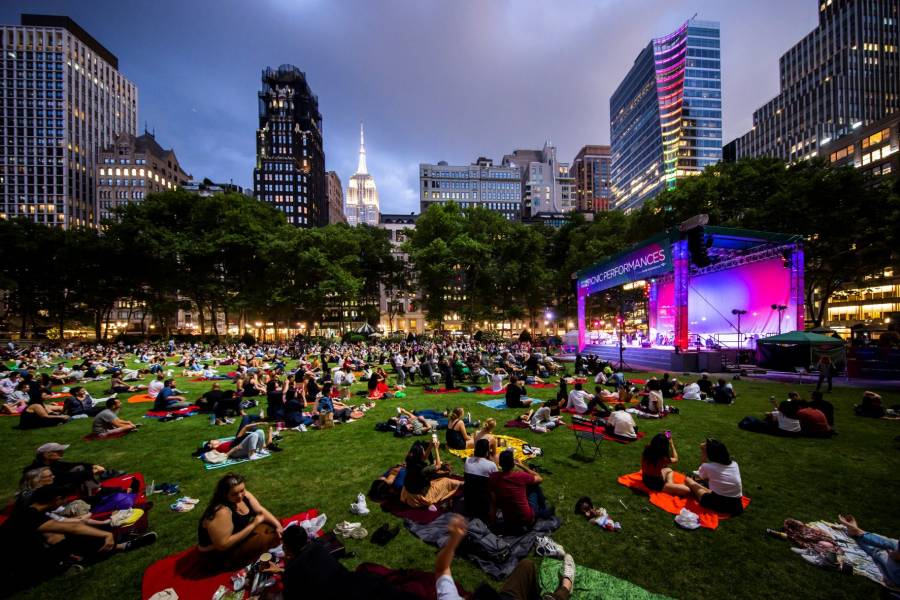 Borrow a picnic blanket or chair – or bring your own. Bryant Park blankets and chairs are available on a first-come, first-served basis.
Attendees may bring their own food or purchase from on-site food and beverage vendors near the Lawn. At most performances, attendees can purchase food from a rotating line-up of local NYC vendors curated by Hester Street Fair. At all performances, Stout NYC offers cheese and charcuterie boards as well as a selection of beer, wine, frosé, and non-alcoholic beverages for purchase.
Performances are cancelled when it is unsafe to be outdoors. In some cases, the Lawn may be too wet to open but the performance may continue. Follow @bryantparknyc for day-of event updates.
COVID-19 vaccinations and masks are not currently required but Bryant Park will continue to monitor and follow updated New York City and New York State COVID-19 guidelines throughout the summer as necessary.