Dance Party: Swing Dance: The American Cultural Experience
Superb bands and expert dance instruction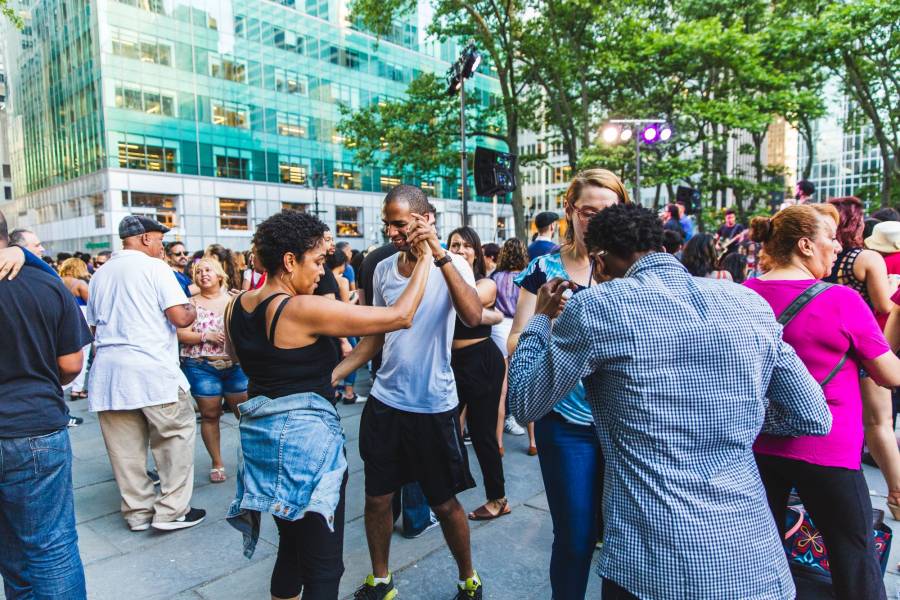 Angelito Jusay
May 11, 2023, 6:00pm–8:30pm
A midtown tradition since 2014, Dance Party returns to Bryant Park this summer! At each Dance Party event, attendees meet at the world-famous Bryant Park Fountain to learn basic steps with expert instructors from 6 to 7pm. Afterwards, participants can test out their new moves to live music performed by a diverse selection of bands from 7 to 8:30pm.
Dance Party makes dance fun and easy for all ages and ability levels with hands-on instruction in popular steps. Audiences will learn basic moves in styles like salsa and swing, bachata, salsa dura, and more. Hosted by Talia Castro-Pozo, a stellar cast of instructors from around the globe bring their deep understanding of the traditions and innovations of their chosen specialties.
Instruction by Gaby Cook and AJ Howard
Live music by Charenée Wade's Band of Swing
Known for expert vocal improvisational ability and her seriously swinging groove, Brooklyn native Charenée Wade evokes a classic jazz sound akin to Betty Carter and Sarah Vaughan, two of her musical touchstones. With her Motéma debut, Offering: The Music of Gil Scott-Heron and Brian Jackson, she pays tribute to another inspiration, the socially conscious poet and musician Gil Scott-Heron, and confirms that she too plans to use her artist platform thoughtfully. The first full-length album tribute to Scott-Heron and his musical collaborator Brian Jackson by a woman artist, Offering is arresting in just how timely Scott-Heron's messages are today and how perfectly Wade delivers them through her savvy arrangements and intimate jazz interpretations. While she has earned many accolades – first runner-up in New York's Jazzmobile Vocal competition; a participant in Betty Carter's Jazz Ahead program; a feature on NPR's Song Travels; a starring role in the off-Broadway show Café Society and in Jazz at Lincoln Center's Salute to Betty Carter – she may surprise people with this authentic tour de force. Wade gives ample evidence on this remarkable debut as to why she is one of the most exciting, distinctive and bold young musical talents on the rise today. Wade has performed with Bobby Sanabria, Aaron Diehl, Oran Etkin, Robert Glasper and MacArthur Fellow and choreographer Kyle Abraham, among others, and at venues and festivals worldwide including Montreux and Spoleto. A singer, composer, arranger and educator, Wade is also a professor at the Aaron Copland School at Queens College and was just recently appointed to Peabody Institute.
Charenee Wade