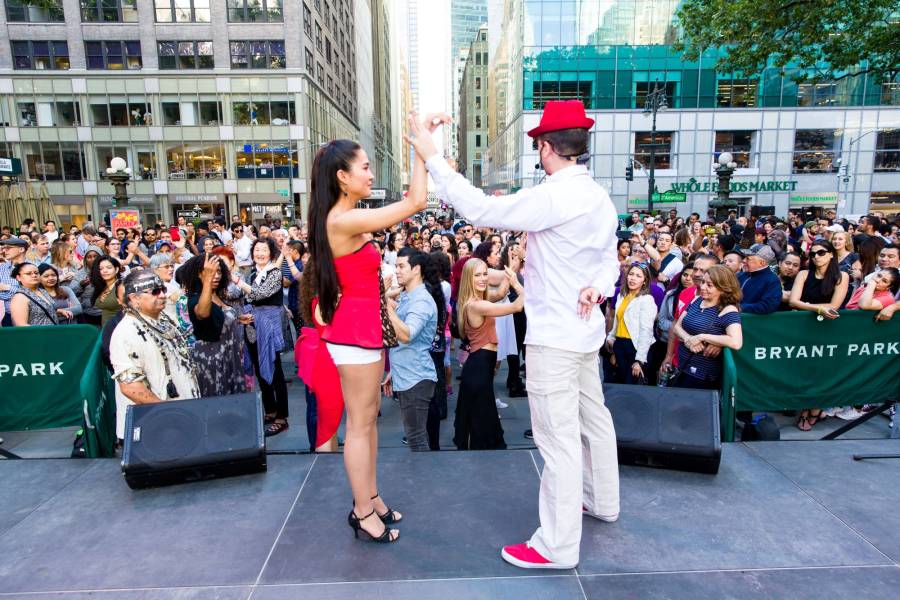 Angelito Jusay
May 4, 2023, 6:00pm–8:30pm
A midtown tradition since 2014, Dance Party returns to Bryant Park this summer! At each Dance Party event, attendees meet at the world-famous Bryant Park Fountain to learn basic steps with expert instructors from 6 to 7pm. Afterwards, participants can test out their new moves to live music performed by a diverse selection of bands from 7 to 8:30pm.
Dance Party makes dance fun and easy for all ages and ability levels with hands-on instruction in popular steps. Audiences will learn basic moves in styles like salsa and swing, bachata, salsa dura, and more. Hosted by Talia Castro-Pozo, a stellar cast of instructors from around the globe bring their deep understanding of the traditions and innovations of their chosen specialties.
Instruction by Mariana Parma and Leo Sardella at 6pm
Live music by Pedro Giraudo at 7pm
Latin Grammy Award-winning bassist and composer Pedro Giraudo is among the most compelling tango artists today. After two decades performing with the most important interpreters of tango, Pedro Giraudo debuted his own Tango Orchestra at Lincoln Center's Midsummer Night Swing in 2015; since, he has become an active cultural ambassador of this beautiful and passionate music of his native Argentina. His album Vigor Tanguero won a Latin Grammy Award for Best Tango Album in 2018. In 2014, he recorded bass on Ruben Blades' album Tangos, which won two Latin Grammy Awards (Best Tango Album and Best Latin Pop). Giraudo has collaborated with Pablo Ziegler, Paquito D'Rivera, and Dizzy Gillespie's protégé William Cepeda, and more. Giraudo has also collaborated as a performer and arranger for some of New York's most respected institutions, such as the New York Philharmonic and New York City Ballet Orchestra. As a composer and arranger, Giraudo leads his own jazz and tango ensembles and has been hailed by critics as one of the most creative and daring bandleaders on the scene today. His compositions combine his love of classical forms, Argentine tango and folk music, and the spontaneity of jazz improvisation. His albums include Impulso Tanguero (2021), An Argentinian in New York (2018), Vigor Tanguero (2018), Cuentos (2015), Córdoba (2011), El Viaje (2009), Desconsuelo (2005), and more.