August 26, 2022, 7:00pm–9:00pm
Enjoy a summer pop-up edition of Habibi Festival, a new NYC celebration of contemporary and traditional musics of the SWANA (South West Asian and North African) region at Bryant Park. The show features performances from three different artists: Palestinian Kanun player and composer Firas Zreik and his trio; traditional Algerian/Moroccan music and dance with artist Esraa Warda and The Châab Lab; and AJOYO, a blend of traditional African, jazz, and soul music led by French-Tunisian saxophonist and composer Yacine Boularès with special guest Malika Zarra. This event is presented in collaboration with Joe's Pub, an independent, non-profit music venue within the Public Theater dedicated to supporting performing artists at every stage of their careers.
AJOYO is the vision of multi-reed player Yacine Boularès, a mystic brew blending African tradition, jazz and soul. AJOYO chants in the name of Tony Allen, Oum Khalsoum, Charlie Parker and Donnie Hathaway. Originally from Tunisia, Yacine Boularès has played sax, composed and arranged music for Cameroonian musicians such as former Fela Kuti drummer Jojo Kuo, the late Martino Atangana, the Haitian Kompa legends Tabou Combo, and for Placido Domingo's Encanto Del Mar. The project originated in these encounters and influences, as Boularès assembled a band that reconciles his North African and Western heritages. AJOYO celebrates life, love and justice through music: music for the heart, the mind and the body, the kind that is soulful, sophisticated and that makes people want to dance.
Esraa Warda is New York's emerging dance artist and educator specializing in Algerian and Moroccan traditional dance forms. A child of the Algerian diaspora, Warda is a cultural warrior advocating for the representation and preservation of North African, women-led dance traditions and the decolonization of euro-centricity, orientalism, and patriarchy in dance. Featured in VOGUE Arabia, Warda "takes Algerian dance from relative obscurity to the limelight ... In a society focused on all things svelte, there is a charm in seeing a woman of Esraa's size unabashedly, fiercely, and proudly ..." Her dance workshops and lectures have trail-blazed their way to educational institutions such as Cornell University, Wellesley College, King's College (London), and University of Ottawa. She performs with notable North African women's groups such as Bnat el Houariyat (Marrakech) and often performs internationally in New York, Paris, Belgium, Casablanca, and London.
Firas Zreik is a Palestinian Kanun player, composer, arranger snd educator based in New York City. He has worked, recorded & performed with international artists from the highest caliber, such as Roger Waters, Shankar Mahadevan, Shreya Ghoshal, Simon Shaheen, Bassam Saba, Amal Murkus, Fabrizio Cassol, Amir Al-Saffar, Aynur Dogan, Raghu Dixit, Marwan Khoury, Elias Karam, Abeer Nehme and many more. In addition, he performed all over the United States, Europe and the Middle East, both as a Kanun player and as a musical director in some of the most prestigious venues and festivals in the world, such as Boston Symphony Hall, Lincoln Center, Carthage International Festival, Savannah Music Festival, Institut du Monde Arabe, Teatro Mediterraneo, and many more. Zreik is the lead Kanun player and soloist for The National Arab Orchestra, which is among the finest worldwide in that genre. He's also the lead Kanun player for legendary Oud virtuoso Simon Shaheen, as well as the musical director of Amal Murkus's band, which he also recorded on her latest album, in addition to producing many of her recent songs. Zreik is an ambassador of Medinea Artists Network, a prestigious European music network that connects together highly acclaimed young musicians from all over the Mediterranean. As an educator, Zreik has given workshops and masterclasses at Tufts University, NYU, Berklee College of Music, The Arabic Music Retreat, Circle for World Arts and many more. He has so far released two original singles, one EP, and he's currently upon releasing a full original album with his band.
Malika Zarra is an inspiring new international voice who is influenced by jazz and brings her own culture and creativity to the melting pot. Born in Morocco, raised in France, Zarra lived ten years in New York City, four years in Morocco, and now lives back in France. This gifted composer, producer and singer has invented a new Moroccan urban-world-jazz by tastefully using traditional North African chaâbi, Berber and Gnawa polyrhythms to underpin her distinctly contemporary urban compositions, all the while maintaining a sophisticated improvisational modern jazz approach. An award-winning singer/composer/producer, Zarra is a multi-cultural shape-shifter, an enchantress who leaps effortlessly between seemingly unconnected languages and traditions, uniting them while utilizing each to further enrich the others. The exotically beautiful artist with a velvety, sinuous mezzo- soprano voice has demonstrated a rare ability to communicate both powerful and subtle ideas and feelings in Berber, Moroccan Arabic, French and English now a much-in-demand headliner at concert halls and festivals the world over.
Picnic Performances presented by Bank of America showcases live and in-person music, dance, and theater events produced in partnership with a diverse and storied lineup of New York City's performing arts institutions. All performances are free to the public and designed to be enjoyed casually – no tickets required—with ample seating available and free picnic blankets to borrow.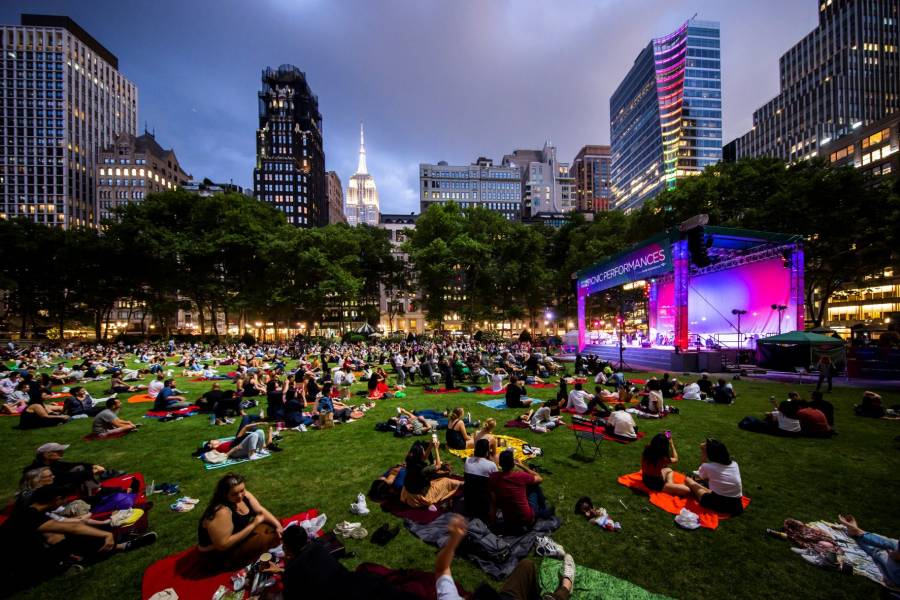 Chris Lee
Borrow a picnic blanket or chair – or bring your own. Bryant Park blankets and chairs are available on a first-come, first-served basis.
Attendees may bring their own food or purchase from on-site food and beverage vendors near the Lawn. At most performances, attendees can purchase food from a rotating line-up of local NYC vendors curated by Hester Street Fair. At all performances, Stout NYC offers cheese and charcuterie boards as well as a selection of beer, wine, frosé, and non-alcoholic beverages for purchase.
Performances are cancelled when it is unsafe to be outdoors. In some cases, the Lawn may be too wet to open but the performance may continue. Follow @bryantparknyc for day-of event updates.
COVID-19 vaccinations and masks are not currently required but Bryant Park will continue to monitor and follow updated New York City and New York State COVID-19 guidelines throughout the summer as necessary.