August 29, 2022, 7:00pm–8:30pm
Grammy Award-winning sextet Eighth Blackbird will perform a tribute to The Town Hall's 1958 John Cage Retrospective. Founding member Matthew Duvall said: "Reinterpreting the iconic 1958 Town Hall John Cage performance is going to be an extraordinarily fun show. I'm excited to revisit works from the 1958 program with new perspectives, as well as curate new connections. One aspect of Cage's genius was meticulously constructing composition to fervently guarantee unexpected outcomes. Eighth Blackbird is just as curious as the audience will be to see what happens."
The Town Hall is a 1,500-seat national historic landmark venue in the heart of New York City, created by suffragists in 1921 and host to countless cultural and musical milestones…
Richard Strauss and Isaac Stern made their US debuts at Town Hall. Marian Anderson gave her first New York recital there. Dizzy Gillespie and Charlie Parker debuted bebop to the world at Town Hall. Margaret Sanger was arrested for daring to speak to an audience of men and women about birth control. Bob Dylan performed his first major concert at Town Hall. America's Town Meeting of the Air was one of the most celebrated and influential public discussion shows of the twentieth century, and featured guests as diverse as Eleanor Roosevelt, Langston Hughes, Richard Nixon, and Jackie Robinson. Town Hall continues to be a forum for the people—a welcome home of expression, education and exploration. In recent history, Town Hall welcomed Gilberto Gil, Joan Baez, Stephen Colbert, Jack White, Patti Smith, Larry David, Tig Notaro, Garrison Keillor, Ray LaMontagne, Ira Glass, and Neil deGrasse Tyson. They welcome the Prairie Home Companion, New York Comedy Festival, and TED Talks. They welcome debuts and old favorites, tributes and experiment, collaborations and conversation. Town Hall welcomes thousands of public school children every year who participate in the Town Hall Arts in Education program.
Picnic Performances presented by Bank of America showcases live and in-person music, dance, and theater events produced in partnership with a diverse and storied lineup of New York City's performing arts institutions. All performances are free to the public and designed to be enjoyed casually – no tickets required—with ample seating available and free picnic blankets to borrow.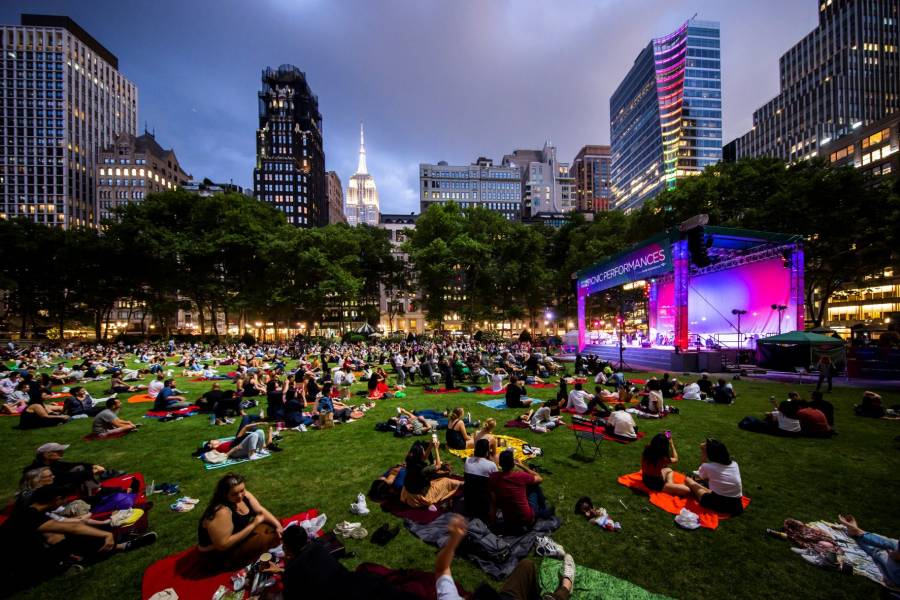 Chris Lee
Borrow a picnic blanket or chair – or bring your own. Bryant Park blankets and chairs are available on a first-come, first-served basis.
Attendees may bring their own food or purchase from on-site food and beverage vendors near the Lawn. At most performances, attendees can purchase food from a rotating line-up of local NYC vendors curated by Hester Street Fair. At all performances, Stout NYC offers cheese and charcuterie boards as well as a selection of beer, wine, frosé, and non-alcoholic beverages for purchase.
Performances are cancelled when it is unsafe to be outdoors. In some cases, the Lawn may be too wet to open but the performance may continue. Follow @bryantparknyc for day-of event updates.
COVID-19 vaccinations and masks are not currently required but Bryant Park will continue to monitor and follow updated New York City and New York State COVID-19 guidelines throughout the summer as necessary.